SpectraVision
The second theatre features The Shirley Spectra's SpectraVision product.  Two 30cm characters on a stage based on the exterior of an old packing shed, continue the banana story.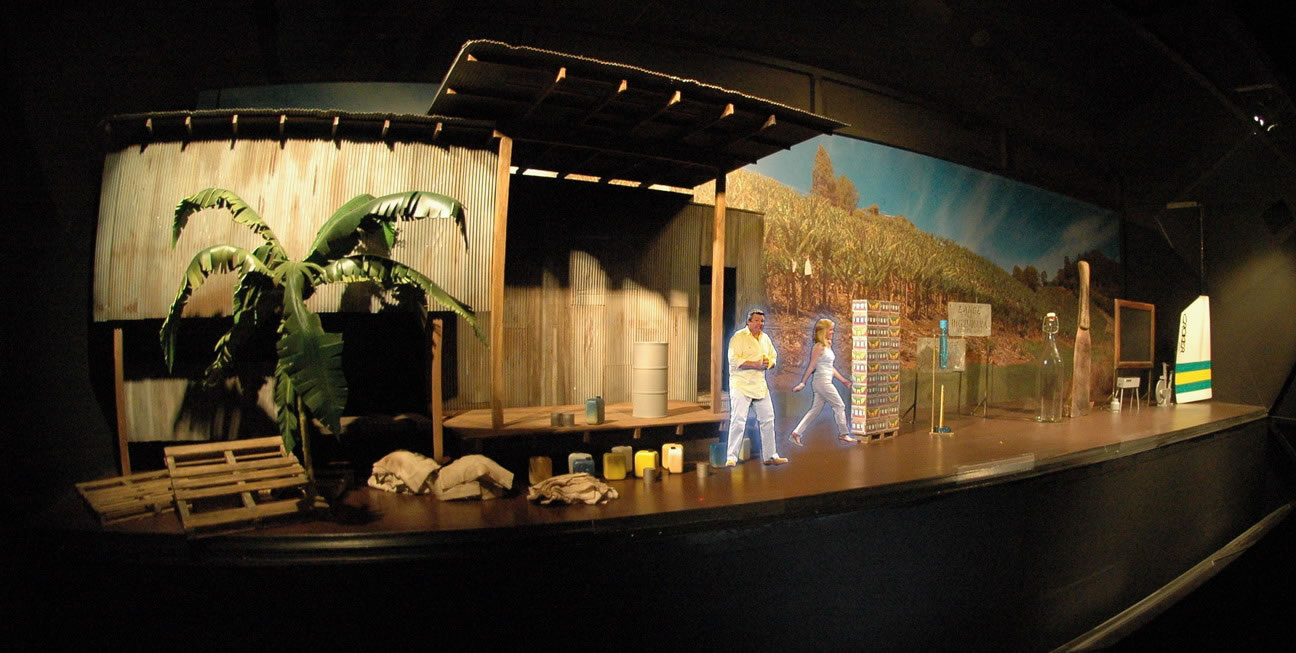 The combination of the surreal with real is the medium's magic, with the small characters interacting with objects on the SpectraVision stage.
The scrim is both a projection screen for multiple projectors, and it masks the objects in the diorama.  When the objects are illuminated behind the scrim, the scrim becomes translucent and the objects become three-dimensional aspects of the story.   Scrim makes the theatre presentation unpredictable.
---

The Big Banana
Coffs Harbour

The brief was to update this 40-year-old tourist attraction and provide a new direction that focussed on bananas and on fun.   The Big Banana was the first of the `big' attractions in Australia.
Object Theatre
The Shirley Spectra designed an interpretative strategy involving two totally automated theatres.  The tour begins with the opening of automatic doors to an Object Theatre, which features scrim that curves around the full width of the auditorium and is almost floor-to-ceiling in height.  Behind the scrim is a diorama with a number of objects that relate to the story of bananas, including  life-size fabrications of banana plants, an elephant, and a host of related artefacts.
Big Banana Hologram
Big banana spectacular
Big Banana Object Theatreig Banana Hologram